The lovely Michelle from stray cat blues (check out her blog for inspiration from this classy lady with impeccable taste) sort of tagged me to list seven things that make me, me. She didn't explicitly tag me, but she tagged all her readers and gave me a special mention, which made me nearly-literally weep with joy and gratitude.
In any case, one of my great joys in life is talking about myself so I am thrilled to share with you, one at a time,

7 Things That Make Me Who I Am - Part One

1. I go shopping at least three times per week.
Thrift-store shopping of course! For myself and my online vintage store - people often ask how I manage to find the wondrous haberdashery that I do and the "secret" (if you could call it that) is simply effort. Well, okay, it's not as simple as all that - I've been to some towns where the thrifting is just miserable. To be a thrift store success as I am, you need the following combination:

Good thrift stores
Living in a more affluent area helps, but it really comes down to the variety of people who would be donating to these thrift stores. I personally live in a community that is both fairly wealthy and full of retiring hippies - a recipe for good thrifting if I ever heard one!
Dedication
Yeah, going thrifting a couple times a month will yield results - but if you go three, four, five times a week, you get to snag the exciting pieces before anyone else. Hell, I'm all for daily thrifting, but with my busy laying-in-bed schedule, it's just not always possible.
Sense of self
It's good to know specifics of what you're looking for - for example, I favour ethnic patterns, fur and beaded jewelry. When you're in a rush, it's easier to skim for what you like.
That's not to say I don't enjoy some good cheap mall jeans, because I overindulge in those $15 Body Central jeans that last surprisingly long. But my secondhand goods add a much-needed shot of soul into my wardrobe.
Let's play a little quiz game to discuss thrift store clothing further - here's a bunch of pictures of me. Which of these outfits do you think were bought at thrift stores and which were bought at the mall?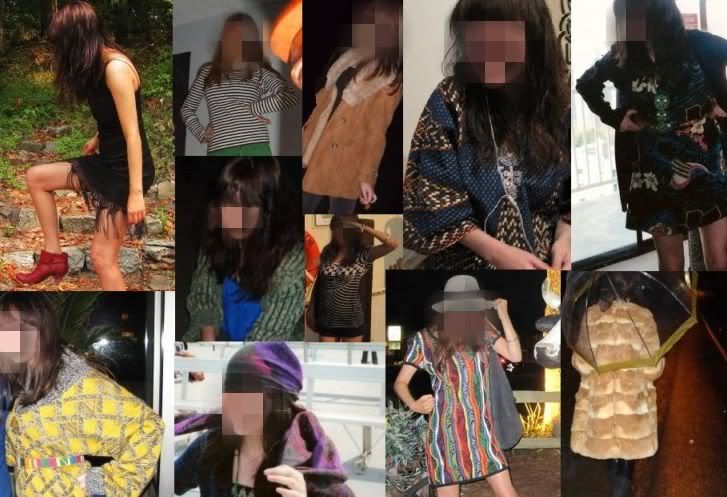 Answer: Trick question! They are all thrift store finds. All of them! Every last one - shoes, belts, hats, scarves, the clothes themselves...all but the umbrella, I scrounged up at thrift stores.
The most expensive item? The suede, fur-trimmed groupie coat, top row centre - $10.

Bow down.