When I'm in a tough spot, I like to curl up with mtv.ca (Yes, we have an MTV Canada; "They just can't seem to get anything right up there, can they?" -Gavin Volure) and enjoy a little trashy reality TV. But since "16 & Pregnant" only comes out once a week, sometimes in cases of extra apathy, I have to venture out of my usual teen-mom canon and experiment with other MTV reality shows.

Yeah, I really should be reading.
A book, even.

Anyway, just now I decided to try watching
My Life as Liz
, as it seemed to at least be more interesting than
The Hills
(though, really, what isn't?)
I actually had to stop watching partway through because I was filled with such annoyance that I felt a rant coming on...and what better place to pour out my feelings than on my very own blog - and I'm sure Liz has one of her own because she is just so delightfully alternative.
I have never met the girl, so I cannot claim to have a problem with her but I cannot stand her phenomenally contrived persona. I guess she's supposed to be the Paramore crowd's answer to Lauren Conrad, but in this day and age, the unnatural-hair-colour-sportin', eye rollin', handheld-video-camera-wieldin', awkward-guy-friend-having, sarcastic "rebel" has become as obnoxious a stereotype as the bottle blond cheerleader type. Quirkiness is less endearing when it's as forced as this.
And I can't help but feel a bit of affection for Liz's foil character, the "Barbie" Taylor Terry. In the first episode, when she passive-aggressively confronts Liz's downright rude disdain for her with a "Like, what's the stereotype that, like, you think that people would, like, put me in?" (cue Liz's ironic glace into the camera - Taylor shows her who's the real bitch, matching her look with an aggressive glare) She obviously at least has a sense of humour about herself, filming a cutesy montage of her as a Barbie doll. In an online profile, she states "I hate girls with baby voices", "I eat like a man" and "I don't like the colour pink" - this girl's alright.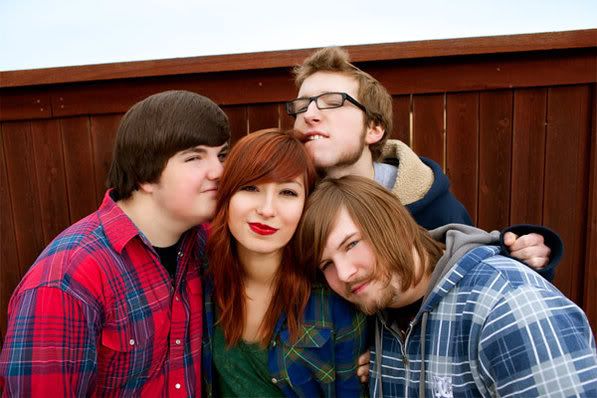 Now, bear in mind, this is mostly a snap judgement from seeing half of the first episode. However, one of my pet peeves are people who blanketly judge all religious people for being judgmental, based on a few extremists, and I feel that in a way this is what Liz does. She whines and whines about how people in her town judge anyone for being different, but all she does is judge other people. She thinks she's so superior to Taylor Terry and her clique just because she stopped trying to be like them - which, she indicates in the beginning of the episode, she only did because her former friends shunned her. Her "epiphany" was practically forced onto her by the very people she so bitterly hates...but it's not personal or anything.
I know what you're thinking: Holy crow, (yeah, I know you say "Holy crow", don't fight it) this chick (meaning ME) is a triple hypocrite - she's judging Liz for judging other people for judging.
The difference? I'm not criticizing Liz the person, but Liz the MTV character. And once you're an MTV character, you're opening yourself up to this kind of thing: blogs are the heart and soul of television these days.
Actually, I just un-paused it for a minute, and must give Liz major props for admitting that Taylor Terry "isn't that bad". Baby steps...
The fact that this is on MTV makes it nearly impossible for me to believe that Liz is any more genuine than Heidi Montag's face (and I am instantly embarassed by the laziness of that analogy) - how did a girl like this get a TV show anyway?
Because she wanted to be on MTV. So the difference between Liz and The Hills ladies (whom, for the record, I do find 10 times more despicable than Liz, despite the rest of this sentence)? Those blondies are at least honest about their shallowness.